Why Host a Conference in the United Arab Emirates?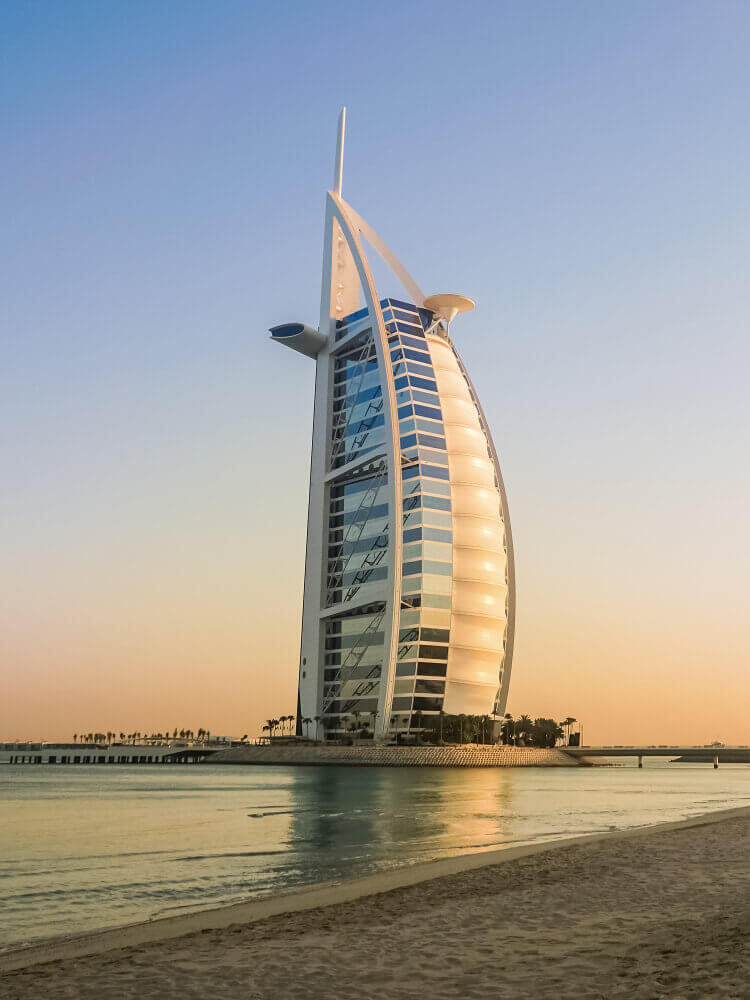 UAE is an exciting tourist environment and ideal for entrepreneurs and businesses. As a result, it is a leading global tourist destination and a growing international economy. Additionally, the United Arab Emirates has one of the most liberal trade regimes in the Middle East, which provides a strong incentive and is a powerful catalyst for growth and development in the region.
The government aims to establish UAE as the top destination for business people and international companies alike. The objective is pursued by a strong focus on international meetings, exhibitions, and conferences to improve the country's reputation as an excellent location for investment opportunities and growth.
UAE is the most popular country in the Middle East and Africa for the regional headquarters of Fortune 500 companies. According to The Economist, more than 80% of Fortune 500 companies have established a presence in UAE.
In the fall of 2021, Dubai is set to host several landmark events, including the marquee Expo 2020, which is expected to attract record-breaking business growth, participation, and attendance. Commencing on 1st October 2021, the event will be the largest in the Arab world and is set to welcome participants from over 190 countries.
The Seven Emirates
The United Arab Emirates comprises seven emirates. The emirates include Dubai, Abu Dhabi, Fujairah, Ajman, Umm al Quwain, Ras al Khaimah and Sharjah. Each emirate follows its rules and regulations. One of the key strengths of the United Arab Emirates is its focus on economic diversification. This diversification involves development in different industries and sectors such as trade, banking, tourism, service, and manufacturing. The secret to consistent growth has been a strong and stable political system, excellent infrastructure, and banking processes. The biggest strength of the Emirates lies in its multicultural diversity. Islamic values drive the culture with the integration of traditional values and modernity. This has resulted in an ecosystem that respects and celebrates the values/traditions of the residents and tourists from all over the world. The year 2019 was declared the "Year of Tolerance" to cherish the status of UAE as a global hub of peace, harmony, and diversity.
Infrastructure for Business Events and International Conferences
The UAE government is working with industry stakeholders to develop a framework that can ensure that international business events are regularly organized while ensuring that the health and safety of the participants are prioritized.
An IMF report from October 2020 has forecast the UAE's non-oil real GDP to grow by 3.0% in 2021.
The International Congress and Convention Association (ICCA) lists 23 members in the UAE out of the 53 in the Gulf/ Middle East region. There are 15 ICCA members in Dubai, and 6 members in Abu Dhabi.
English is widely spoken and used in business.
On October 1, 2021, to March 31 2022, the UAE hosted Expo 2020 Expo 2020. Expo 2020 is the largest exhibition in the Arab world, with exhibitors from 192 countries. Besides Expo 2020, the UAE will host other important international events in 2021, including the Annual Radiology Meeting, The Airport Show, and the Cityscape 2020 Real Estate Summit.
With the world slowly emerging from the challenges of the global pandemic, United Arab Emirates has been at the forefront of tackling health challenges with determination. Economic sectors have gradually reopened with sustainable actions taken to enhance business activity and minimize the socioeconomic impact of the pandemic.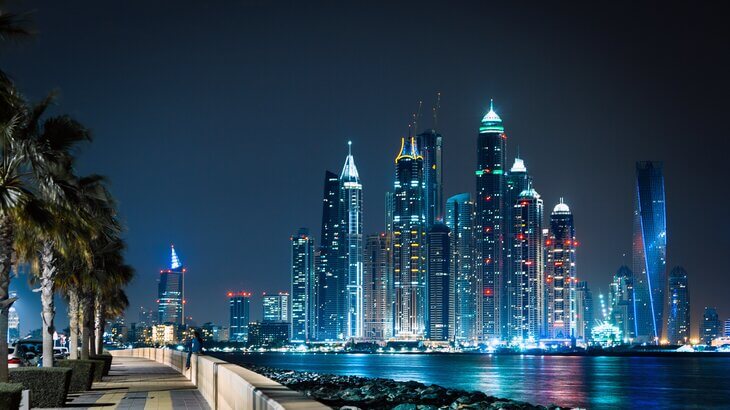 Dubai
In 2018, Dubai was the premier destination for business meetings in the Middle East and Africa region. Dubai has over 740 hotels with over 120,000 rooms and more than 200,000 sqm of conference and exhibition centers.
Dubai International Airport is the world's busiest airport by international passenger traffic. It connects Dubai to 159 cities with non-stop flights.
According to statistics, Dubai World Trade Centre (DWTC) hosted over 400 business events in 2018 with an influx of almost 3.5 million delegates.
Dubai has numerous attractions, including the Burj Khalifa, the world's tallest structure 829.9 m, Burj Al Arab hotel, built on an artificial island, The Dubai Fountain, the world's largest performing fountain. Giant malls.
Dubai Business Events
Dubai Corporation for Tourism and Commerce has formulated business events stakeholders committee to facilitate international business events in the UAE. Among the committee, companies are professional congress organizers (PCOs), exhibition organizers, and DMCs like Alpha Destination Management and MCI Middle East, Expo 2020 Dubai, Venues, and airlines like Emirates, Dubai World Trade Centre, Jumeirah Hotels & Resorts.
Dubai Corporation for Tourism and Commerce created a special division known as Dubai Business Events, the official convention bureau. They give free and impartial advice tailored to event organizers' needs. The bureau checks and recommends the available venues that would be most suited based on the nature and scale of the business event. DBE receives quotes and proposals from different venues/ service providers and shortlists them based on the event's specific requirements. The chosen site is inspected to ensure they are of the best standard. Seamless support is provided at the event site, such as formulation of social and activities. To further enhance the event experience, Dubai Business Events also assists in developing pre-event and post-event programmers and provides complimentary visitor guides for delegates. Other notable points include the opportunity to connect with industry professionals and government representatives. Other important services include holding hotel reservations and handling public relations.
DBE partners with both public and private partners such as Dubai World Trade Centre, Fly Dubai, Emirates Airlines, and other industry members to strengthen Dubai's reputation as a global hotspot and business hub. Dubai has hosted numerous international events such as the Academy of International Business Annual Meeting and the Annual Congress of the Asia Pacific League of Associations for Rheumatology.
Dubai Event Permit and Fees
Events in Dubai require a permit from Dubai Tourism and Commerce Marketing (DTCM). The permit can be obtained online through the DTCM e-permit portal. The permit fee is calculated based on the event type and size. Events that require registration need to send attendee data and ticket details to the DTCM e-ticketing system, get a barcode and print it on the attendee badge. The badge is scanned on arrival to update the DCTM system.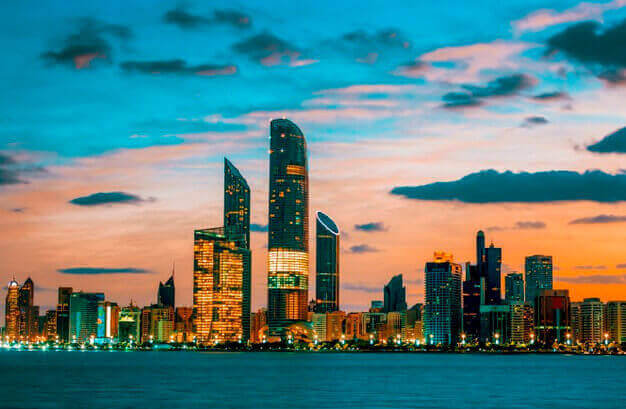 Abu Dhabi
Abu Dhabi is the 2nd most popular destination for business meetings in the Middle East and Africa region. With unique facilities and structures that include Ferrari World, Yas Marina Circuit, Al Ain Convention Centre and Abu Dhabi Green Garden City, and Etihad Towers, Abu Dhabi is one of the most spectacular event destinations in the United Arab Emirates.
Abu Dhabi has hosted an array of international events such as the International Diabetes Foundation, the World Urban Forum, the World Ophthalmology Congress, the World Future Energy Summit, and the Global Forum for Innovations Agriculture, IDEX, the largest defense exhibition and conference in the Middle East, IBTM Arabia a meetings and events industry trade show.
Abu Dhabi National Exhibition Centre
The National Exhibition Centre (ADNEC) is the largest exhibition center in the Middle East. The International Convention Centre (ICC), the emirate's largest indoor auditorium, can seat up to 6,000 people and host the biggest indoor events and business meetings.
Abu Dhabi Convention and Exhibition Bureau
The Abu Dhabi Convention and Exhibition Bureau offer business solutions such as providing local expertise and planning events. A support team has been established to offer end-to-end services in collaboration with the industry and tourism leaders. Similar to Dubai, Abu Dhabi Convention and Exhibition Bureau recommends venues for business events, public relations, marketing support, and pre-and post-conference activities. These initiatives align with "Advantage Abu Dhabi" as part of the 2030 Economic Vision. The vision is to foster a highly competitive and sustainable business environment with excellent tourism and meeting facilities making Abu Dhabi a global hub for organizing large-scale business events.
Abu Dhabi Event License
Events such as exhibitions, conferences, training courses, and workshops in Abu Dhabi required a permit. In addition to the event permit, the Abu Dhabi Department of Culture and Tourism requires the approval of speakers (including presenters or trainers) before the event. The speaker applications fee (2021) is AED 200 + AED 50 for approved speakers. In addition, there is a 10% fee charged from the total ticket sales. Organizers must use an electronic ticketing system to print tickets with barcodes provided by the Abu Dhabi Department of Culture and tourism system.
8 Practical Tips
Dress conservatively.

Both women and men are expected to cover everything.

Shaking hands

Shaking hands with the opposite gender is less common. When meeting with the opposite gender wait for them to reach out for a handshake first.

Use your right hand

Use your right hand when greeting and eating. Traditionally left hand was used for cleaning and can be considered not clean.

Behavior in public places

Public display of affection is considered an offense to public decency. Technically it is illegal for unmarried couples to share a hotel room, but regarding foreigners, it is unlikely that this will object.

Drinking alcohol

Drinking alcohol is allowed in specific licensed places only. Drinking alcohol in public or being drunk in public is considered illegal. In addition, driving with any amount of alcohol is prohibited.

Diffrent working days

Working days in the UAE are Sunday to Thursday.

Arabic

It can be nice to use both English and Arabic in business cards, brochures, and marketing material.

Networking

In-person meetings, and friendships are essential steps in building professional business relationships.
Referrals are a great way to connect to or associate with influential people.

Best month

Avoid the four weeks of Ramadan. December to April - Best Weather but the most expensive months for accommodation.
May - average daytime temperature is 31°C / 87°F.
June - average daytime temperature is 39°C / 103°F
July to August - Hot weather. Low international flight prices in July.
September - Average daytime temperature is 39°C / 103°F, Low accommodation cost, Low flight cost,
October -Average daytime temperature is 36C / 97°F
November - average daytime temperature is 31°C / 87°F. Low price for flights, high price for accommodation.
Doing Business in UAE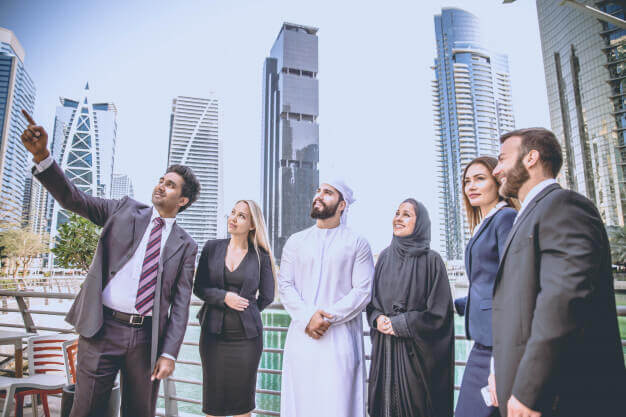 The United Arab Emirates is one of the most business-friendly countries globally, with a high a high focus on economic generation and innovation. As a result, the UAE is ranked 16 on the world bank's ease of doing a busines companies report of 2020.
Different types of business licenses are available to investors depending on the nature of the business and industry. The four main license categories include Professional, Commercial, Tourism, and Industrial. The commercial license is available for companies that are performing trading activities. The industrial license applies to companies that are manufacturing and processing goods. The professional license is most suited to consultancy-related firms in multiple fields of activities. The fourth type of license is the tourism license issued for businesses involved in providing tourism services for the ever-growing number of tourists visiting the UAE every year.
There are three leading business jurisdictions in the Emirates: Mainland, Free Zone, and Offshore companies. Each emirate has an Economic Department that regulates the businesses in the jurisdictions. Each jurisdiction has a set of laws and business regulations that need to be adhered to. The selection of jurisdiction is dependent on the nature and scale of the business activity. For example, a mainland company with a commercial or industrial license requires a local partner.
Free Zone Companies
The rules governing Free Zone companies are different from the mainland companies. The Free zones jurisdiction allows 100% foreign ownership of companies and export/export tax exemptions. Free Zone companies are permitted to operate within the confines of the jurisdiction and are restricted to the activities mentioned in the trade license. Free Zone companies' registration is relatively more straightforward than mainland ones, and the amount of investment required is less than mainland registration.
Offshore companies are another popular form of business in the Gulf region. There are three jurisdictions in the offshore sector which include Dubai, Ajman, and Ras al Khaimah. These entities are ideal for facilitating trade internationally. They are also outside the scope of Value Added Tax and Customs. Offshore companies are not allowed to operate and trade in the local market. Registration of offshore companies is simple and offers business people many incentives such as profit repatriation, savings on tax, and complete foreign ownership.
Once the business jurisdiction is decided, the next step is identifying and registering the business. Business entities can be:
LLC (limited liability Company).
Sole establishment.
Company Branch (Local, GCC, Free Zone, or Foreign).
Holding Company.
Once an investor decides their preferred business jurisdiction, the next part of the process is choosing the company's name. The companies must follow the naming convention, which complies with the law of the country. Some words are forbidden, such as religiously offensive words. If a person's name is included in the business, they must be partners in that business. Upon finishing the legal paperwork and submitting documents, the investor will receive their business license. Then, opening bank accounts can begin, which is usually a hassle-free and straightforward process.
Visas for Businesses
Foreigners can live, work and own a business on the UAE mainland. A three-year investor visa is available on business registration. Entrepreneurs of a business with a minimum capital of AED 500,000 can apply for a five-year visa. If the business has AED 10 million invested or value, the owner can apply for a ten-years visa ('Golden visa').
Conclusion
With excellent support services and world-class infrastructure, it is a top choice for international conferences and business.