Why Host a Conference in the United Arab Emirates?
The United Arab Emirates (UAE) is a leading global tourist destination and a growing international economy. It is also a multicultural society that is welcoming and inclusive to conference attendees from all over the world.
Here are some of the benefits of hosting a conference in the UAE:
Safe and Welcoming Atmosphere
The UAE population is diverse, with local residents from different backgrounds and faiths, as well as many international visitors. The government is committed to the safety and security of all visitors and residents and encourages people of all faiths to live and work together peacefully. This aligns with the strategy of the UAE as an international business hub.
Crime rates are among the lowest in the world. In the Global Peace Index (GPI) of 2022, the UAE is categorized as a highly peaceful country with a GPI index of 1.865 on a scale of 1 to 5.
World-Class Venues
The UAE offers a wide range of options for hosting events, with over 450 hotels featuring event spaces of varying sizes. From the spacious 2,718 sqm conference room at the Hilton Dubai to smaller meeting rooms, options suit different needs. Additionally, the country has six exhibition centers that exceed 10,000 sqm, with the Dubai World Trade Centre being the largest at 122,000 sqm.
Convenient Travel
The UAE is highly accessible from most parts of the world, with 7 international airports located within the country. Among them, Dubai International Airport is the largest and offers direct flights to more than 250 destinations spanning over 100 countries. Furthermore, visitors have a choice of over 1,080 hotels in the UAE, providing approximately 180,000 available hotel rooms.
Ease of Doing Bussines
The UAE is known for its foreigner-friendly business environment, facilitated by free zones that make establishing and owning foreign businesses easier. These free zones offer various benefits, including tax exemptions, making it an attractive option for international companies to set up operations.
Government Support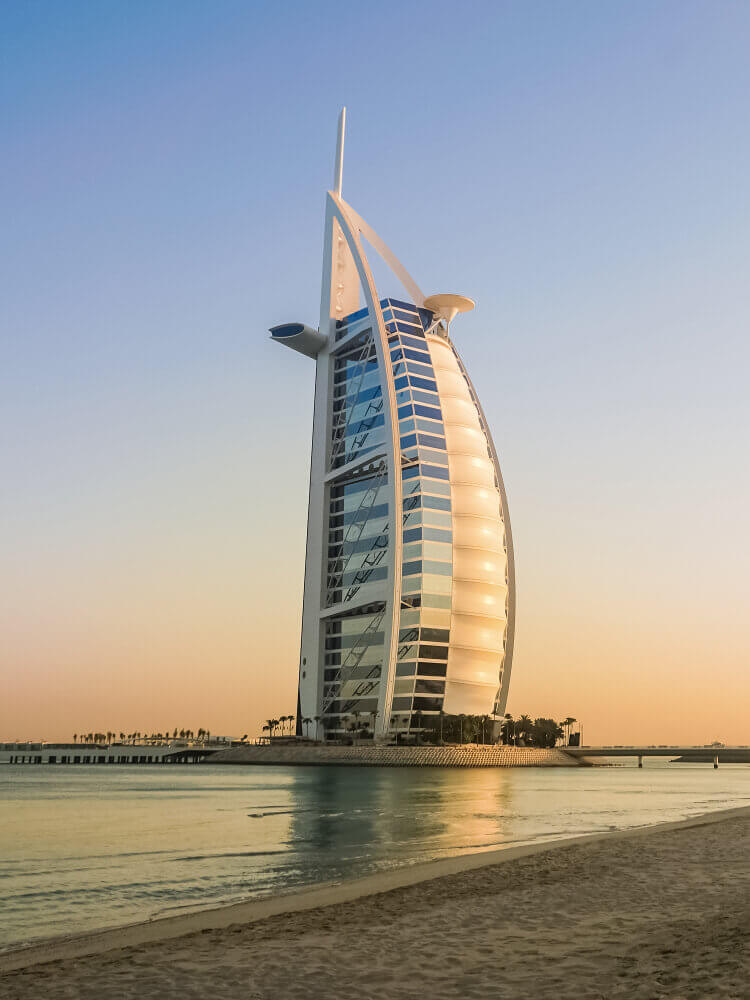 The government of the UAE aims to establish the country as the top destination for business people and international companies. The government pursues this objective by focusing on international meetings, exhibitions, and conferences to improve the country's reputation as an excellent location for investment opportunities and growth.
Human Resources
The U.N. Human Development Report, which measures human health, access to knowledge, and a standard of living, grades the UAE as 0.911, placing it in the "very high" category between Spain and Austria.
The UAE Features and Characteristics
The United Arab Emirates is a relatively small country, similar in size and population to the U.S. state of South Carolina. It has an area of 71,023 square kilometers (27,422 square miles) and a population of around 10 million people. The country is located in the southeastern part of the Middle East, on the Persian Gulf. It borders Saudi Arabia to the west and south, and Oman to the southeast.
Islam is the official religion, and Arabic is the official language. However, a large majority of the local population speaks English.
Open and Growing Economy
The UAE economy is open and growing, with a GDP of over $415 billion (Word Bank, 2021). As of 2022, 30% of the UAE's GDP is directly based on the oil and gas industry.
The government is working on attracting foreign investment, making the UAE an attractive destination for businesses and entrepreneurs worldwide. More Fortune-500 companies have established regional headquarters in the UAE than in any other country in the Middle East and Africa. According to The Economist, over 80% of Fortune 500 companies have established a presence in the UAE.
Islamic values drive the culture with the integration of traditional values and modernity.
Investment in Tourism
Investment in tourism is part of the county's effort to diversify the economy. In 2019, travel and tourism contributed nearly 12% of the GDP. This number is expected to grow to 15% by 2030.
The Seven Emirates
The United Arab Emirates (UAE) is a federation of seven emirates: Abu Dhabi, Dubai, Sharjah, Ajman, Umm al Quwain, Ras al Khaimah, and Fujairah. Each emirate has its own government and laws, but they are all united under the UAE federal government.
Multicultural Society
The UAE's local population is multicultural and diverse. Over 80% of local residents are expatriates from all over the world. The majority of the population is Muslim, but there are also large Christian, Hindu, and Sikh communities.
Infrastructure for Business Events and International Conferences
The UAE government is working with industry stakeholders to encourage and facilitate the organization of international business events in the UAE.
The International Congress and Convention Association (ICCA) lists 26 members in the UAE out of the 52 in the Gulf / Middle East region. There are 9 ICCA members in Dubai and five members in Abu Dhabi.
English is widely spoken and used in business.
The UAE hosted Expo 2020, the largest exhibition in the Arab world, in 2021-22. Expo 2020 featured exhibitors from 192 countries. In addition to Expo 2020, the UAE hosted several other significant international events, such as the Annual Radiology Meeting, The Airport Show, and the Cityscape 2020 Real Estate Summit.
Dubai
Dubai boasts over 582 hotels, offering more than 120,000 rooms and over 200,000 sqm of conference and exhibition centers. Reputable research groups regularly rank it as a top destination for business and leisure travelers.
In 2022, Dubai was selected for the 2nd time as the world's 2nd best destination by The business research group Euromonitor. The Resonance Consultancy also regularly lists Dubai as a top city to live, work and invest in. Number 5 city for 2023.
Dubai International Airport is the world's busiest airport by international passenger traffic. It connects Dubai to 159 cities with non-stop flights.
According to statistics, Dubai World Trade Centre (DWTC) hosted over 400 business events in 2018, with an influx of almost 3.5 million delegates.
Dubai has numerous attractions, including the Burj Khalifa, the world's tallest structure 829.9m; the Burj Al Arab hotel, built on an artificial island; the Dubai Fountain, the world's largest performing fountain; and giant malls.
Dubai Business Events
Dubai Corporation for Tourism and Commerce has formulated a business events stakeholders committee to facilitate international business events in the UAE. The committee companies include professional congress organizers (PCOs), exhibition organizers, and DMCs like Alpha Destination Management and MCI Middle East, Expo 2020 Dubai, Venues, and airlines like Emirates, Dubai World Trade Centre, and Jumeirah Hotels & Resorts.
Dubai Corporation for Tourism and Commerce created a special division known as Dubai Business Events, the official convention bureau. They give free and impartial advice tailored to event organizers' needs.
The bureau checks and recommends the available venues that would be most suited based on the nature and scale of the business event. DBE receives quotes and proposals from different venues and service providers and shortlists them based on the event's specific requirements. The selected site is thoroughly inspected to ensure the highest standards.
Additionally, support is provided at the event site, including the organization of social activities. To further enhance the event experience, Dubai Business Events also assists in developing pre-event and post-event programs and provides complimentary visitor guides for delegates.
Other notable points include the opportunity to connect with industry professionals and government representatives. Other important services include holding hotel reservations and handling public relations.
DBE partners with both public and private partners such as Dubai World Trade Centre, Fly Dubai, Emirates Airlines, and other industry members to strengthen Dubai's reputation as a global hotspot and business hub. Dubai has hosted numerous international events, such as the Academy of International Business Annual Meeting and the Annual Congress of the Asia Pacific League of Associations for Rheumatology.
Dubai Event Permit and Fees
Events in Dubai require a permit from Dubai Tourism and Commerce Marketing (DTCM). The permit can be obtained online through the DTCM e-permit portal. The permit fee is calculated based on the event type and size. Events that require registration need to send attendee data and ticket details to the DTCM e-ticketing system, get a barcode and print it on the attendee badge. The badge is scanned on arrival to update the DCTM system.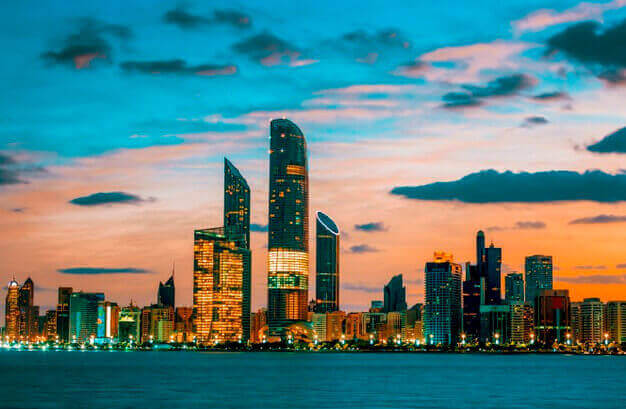 Abu Dhabi
Abu Dhabi is the 2nd most popular destination for business meetings in the Middle East and Africa region. With unique facilities and structures that include Ferrari World, Yas Marina Circuit, Al Ain Convention Centre and Abu Dhabi Green Garden City, and Etihad Towers, Abu Dhabi is one of the most spectacular event destinations in the United Arab Emirates.
Abu Dhabi has hosted an array of international events such as the International Diabetes Foundation, the World Urban Forum, the World Ophthalmology Congress, the World Future Energy Summit, and the Global Forum for Innovations Agriculture, IDEX, the largest defense exhibition and conference in the Middle East, IBTM Arabia a meetings and events industry trade show.
Abu Dhabi National Exhibition Centre
The National Exhibition Centre (ADNEC) is the largest exhibition center in the Middle East. The International Convention Centre (ICC), the emirate's largest indoor auditorium, can seat up to 6,000 people and host the biggest indoor events and business meetings.
Abu Dhabi Convention and Exhibition Bureau
The Abu Dhabi Convention and Exhibition Bureau offer business solutions such as providing local expertise and planning events. A support team has been established to offer end-to-end services in collaboration with the industry and tourism leaders. Similar to Dubai, Abu Dhabi Convention and Exhibition Bureau recommends venues for business events, public relations, marketing support, and pre-and post-conference activities. These initiatives align with "Advantage Abu Dhabi" as part of the 2030 Economic Vision. The vision is to foster a highly competitive and sustainable business environment with excellent tourism and meeting facilities making Abu Dhabi a global hub for organizing large-scale business events.
Abu Dhabi Event License
Events such as exhibitions, conferences, training courses, and workshops in Abu Dhabi required a permit. In addition to the event permit, the Abu Dhabi Department of Culture and Tourism requires the approval of speakers (including presenters or trainers) before the event. The speaker applications fee (2021) is AED 200 + AED 50 for approved speakers. In addition, a 10% fee is charged from the total ticket sales. Organizers must use an electronic ticketing system to print tickets with barcodes provided by the Abu Dhabi Department of Culture and Tourism system.
8 Tips for Business Travelers
Dress conservatively.

Both women and men are expected to cover everything.

Shaking hands

Shaking hands with the opposite gender is less common.

When meeting with the opposite gender, wait for them to reach out for a handshake first.

Use your right hand

Use your right hand when greeting and eating.

Traditionally left hand was used for cleaning and can be considered not clean.

Behavior in public places

Public display of affection is considered an offense to public decency.

Technically it is illegal for unmarried couples to share a hotel room, but regarding foreigners, it is unlikely that this will object.

Drinking alcohol

Drinking alcohol is allowed in specific licensed places only.

Drinking alcohol in public or being drunk in public is considered illegal. In addition, driving with any amount of alcohol is prohibited.

Diffrent working days

Working days in the UAE are Sunday to Thursday.

Arabic

It can be nice to use both English and Arabic in business cards, brochures, and marketing material.

Networking

In-person meetings and friendships are essential steps in building professional business relationships.

Referrals are a great way to connect to or associate with influential people.

Best dates for events

Avoid scheduling business events during the month of Ramadan, which typically falls around March-April based on the Islamic lunar calendar.

In addition to this, consider the month for weather and travel expenses.

| Month | Weather | Travel |
| --- | --- | --- |
| December to April | Best weather. | Expensive accommodation. |
| May | Average daytime temperature is 37°C / 87°F. | Low accommodation cost. |
| June | Average daytime temperature is 39°C / 103°F | Start of the low season. |
| July to August | Hot weather. | Low international flight prices lower accommodation costs. |
| September | Average daytime temperature is 39°C / 103°F. | Low accommodation cost, low flight cost. |
| October | Average daytime temperature is 36C / 97°F. | |
| November | Average daytime temperature is 31°C / 87°F. | Low flight prices, high accommodation prices. |
Doing Business in UAE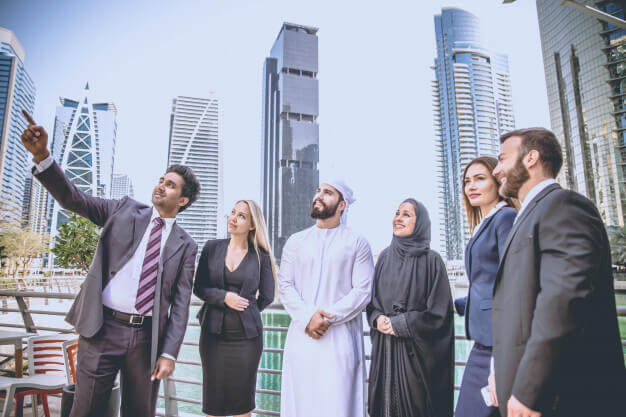 The United Arab Emirates is known as one of the most business-friendly countries globally, with a strong emphasis on economic growth and innovation. As a result, the UAE is ranked 16 on the world bank's ease of doing business companies report of 2020.
Different types of business licenses are available to investors depending on the nature of the business and industry. The four main license categories include Professional, Commercial, Tourism, and Industrial. The commercial license is available for companies that are performing trading activities. The industrial license applies to companies that are manufacturing and processing goods. The professional license is most suited to consultancy-related firms in multiple fields of activities. The fourth type of license is the tourism license issued for businesses involved in providing tourism services for the ever-growing number of tourists visiting the UAE every year.
There are three leading business jurisdictions in the Emirates: Mainland, Free Zone, and Offshore companies. Each emirate has an Economic Department that regulates the businesses in the jurisdictions. Each jurisdiction has a set of laws and business regulations that need to be adhered to. The selection of jurisdiction is dependent on the nature and scale of the business activity. For example, a mainland company with a commercial or industrial license requires a local partner.
Free Zone Companies
Free Zones offer several advantages for businesses, such as a streamlined registration process, 100% foreign ownership option, lower investment requirements, and exemption from import/export taxes.
While the Free Zone companies provide a range of benefits, there may also be specific requirements and restrictions depending on the type of business and Free Zone location. For instance, Free Zone companies are generally limited to operating within the designated jurisdiction and are restricted to the activities specified in their trade license.
The United Arab Emirates (UAE) is home to more than 45 free zones, with 30 in Dubai alone. They differ primarily by the industry they are designed for, cost, and requirements.
For event management operations focusing on a particular sector, establishing the company in a free zone explicitly designed for that industry can provide advantages, such as proximity to potential customers and networking opportunities.
One of the most prominent free zones for conferences and exhibitions is the Dubai World Trade Centre (DWTC) free zone, located in Dubai's central business district. The DWTC is a leading venue for exhibitions, conferences, and events in the Middle East.
Offshore companies are another form of business in the Gulf region. An offshore company is a business entity that is registered in a jurisdiction outside the country of operation.
UAE offshore companies are a popular solution for international trade and for holding shares in other companies, but they are not allowed to operate and trade in the local market.
Once the jurisdiction for the new company is decided, the next step is registering the company and choosing the name.
Companies must follow the naming convention, which complies with the law of the country. Some words are forbidden, such as religiously offensive words. If a person's name is included in the business, they must be a partner. Upon finishing the legal paperwork and submitting documents, the investor will receive their business license. Then, opening bank accounts can begin, which is usually a simple process.
Visas for Businesses Owners and Employees
Foreigners can live, work and own a business in the UAE; to do so, they need to obtain a residence visa and work permit. The visa and permit can be obtained through a UAE-based employer or by setting up a business in the UAE.
An investor visa lasting three years can be obtained when registering a business. Entrepreneurs of a business with a minimum capital of AED 500,000 (about $140K) can apply for a five-year visa. If the business has AED 10 million invested or value, the owner can apply for a ten-year visa ('Golden visa').
Event Management Companies in the UAE
The UAE has a vibrant and diverse group of experienced, multi-lingual event organizers that offer a wide range of services to organize successful events.
Here are a few of them:
Medetarian Conferences Organizers (MCO)
Medetarian Conferences Organizers is a healthcare events management company based in Abu Dhabi, established in 2009. They have experience organizing CME-accredited medical events, virtual events, and conferences. Further, they are a member of ICCA and currently have 32 employees listed on LinkedIn.
Examples:
Middle east fertility conference
The international orthopedic sports medicine conference
Dubai Neurology Congress, Geriatric & Senior Citizens 2023
International Multidisciplinary Breast Conference 2023
Meeting Minds Experts
Meeting Minds Experts is a Dubai-based PCO specializing in organizing international Medical conferences, medical events, and exhibitions. Founded in 2007 by Medhat Nassar, who is also the current CEO.
The company is an IAPCO member and has 32 employees on Linkedin.
Example events:
Word Congress of Gastrology 2022
Emirates Haematology Conference 2023
The WOC international association meeting 2012
MCI Middle East
MCI Middle East is an event organizer with experience managing conferences, meetings, and events. Ajay Bhojwani has been managing the company for over 15 years as the middle-east operation of MCI Global.
The company is an IAPCO member and maintains offices in Dubai and Abu Dhabi.
Examples:
The International Federation of ORL Societies (IFOS) Congress 2023
The Emirates Urological Conference 2022.
InfoPlus Events
InfoPlus Events 2013 has been planning and executing conferences in Dubai, Abu Dhabi, and Oman and currently has 11 employees listed on LinkedIn.
Examples:
The 10th International Congress for Joint Reconstruction
Middle East (ICJR ME)
3rd Complex Joint Management Conference & Exhibition (CJM)
Emirates International Orthopaedic Congress
DiaEdu Management Consultants
DiaEdu is a Dubai-based PCO that organizes health-related events and provides association management services.
Christel Have, a pharmaceutical industry and business professional, founded the company in 2007 and continues to serve as its CEO. It has 10+ Employees in Dubai.
Example:
Interventional Radiology Society (PAIRS) 2023 Annual Congress
Emirates Cardiac Society Conference
Mena Conference
Middle East North Africa (MENA) Conference Company LLC is a conference organizer based in Abu Dhabi with experience organizing medical and CME-accredited events in Dubai and Abu Dhabi.
The company founder and manager, Khaled Afify, served as the CME/CPD Accreditation Officer at the Health Authority of Abu Dhabi for ten years until 2011. It has seven employees listed on Linkedin.
Example events
In 2023 Mena Conference is organizing more than 13 medical conferences in Dubai and Abu Dhabi
Gynecology and Obstetrics Conference
The International Neonatology Conference.
Abu Dhabi International Conference in Dermatology and Aesthetic
International Congress of Aviation and Space Medicine
KIT Group Middle East FZ
KIT Group Middle East is PCO and association management service provider based in Abu Dhabi.
KIT Group Middle East is a UAE free-zone company founded in 1986 as a subsidiary of the Berlin-based KIT Group. It is managed by Hassani El Koutbia and has more than ten employees.
Examples:
The International Society for Pediatric and Adolescent Diabetes 2022
Emirates Society for Rheumatology Annual Meeting 2023
Emirates Dermatology Society Conference
Gulf Dunes DMC
Gulf Dunes DMC is a MICE / DMC company based in Dubai founded in 1995 that manages incentive events, meetings, and conferences in the UAE and Oman.
Since 2022, the company has been managed by Sumaira Isaacs, a tourism industry veteran with 25 years of experience. Gulf Dunes is an ICCA member and IPCO member. In addition, as of March 2023, it is the only company with a Certified Meeting Professional (CMP) person on the staff (Somy Mathews).
Congress Solutions International
CSI organizes events for companies and associations.
CSI is part of The Emirates Group, a state-owned Dubai-based international holding company that includes Emirates Airlines.
Arabian Adventures
Arabian Adventures is a Dubai-based destination management company (DMC) that offers services for meetings, incentives, and events.
Arabian Adventures is part of The Emirates Group, a state-owned Dubai-based international holding company that includes Emirates Airlines.
dmg Events
dmg Events is an exhibition organizer set to organize more than 70 exhibitions in 2023, 20 of which are in the UAE.
dmg Events is a subsidiary of the Daily Mail (UK). It is headquartered in Dubai, with operations in Saudi Arabia, Singapore, Canada, Egypt, South Africa, and the UK.
Examples:
Big 5 Glbaol (building construction,2000+ exhibitors)
World Police Summit Dubai 2023
Blue Ocean Medical Events Management
Blue Ocean Medical Events Management is a free zone company in Dubai organizing medical events in Egypt & UAE.
experience: International Arab Neonatal Care Conference (ANCC 2023)
Conclusion
With excellent infrastructure, transportation, luxury hotels, event venues, and a positive business attitude, the UAE is a prime destination for prestigious international conferences.